Scenic City Women's Network
Post Office Box 3148
Chattanooga, TN 37404
Office 423 698 6262
Scenic City Women's Network says...
THANK YOU!
for making this year's
12th Annual Praise Breakfast a great success!
Thanks to our sponsors!
Covenant Allergy and Asthma Care


Hidden Hollow Camp and Resort
Mr. & Mrs. Rob Huffaker, Jr.
Ben Landess
Mr. & Mrs. Charlie Monroe
Thanks to all that made generous contributions to our ministry at the Praise Breakfast:
Anderson, Jeaneth
Baker, Chuck
Barker, Mary
Bond, Harriet
Campbell, Beki
Carr, Becky
Childress Hawks, Lynda
Clay, Sabrina
Collett, Amy
Colvin, Sylvia
Dahrling, Sherry
Davis, Diane
Dittmar, Kathy
Edwards, Gladys
Fears, Chandra
Fields, Pamela
Fite, Melissa
Gill, Nancy
Gilley, Debi
Glass, Rosalind
Griffin, Jayne
Gunn, Deborah
Hannah, Debbie
Harris, Patti
Head, Dianne
Hencke, Kim
Hicks, Cara
Hines, Susan
Hitchings, Mary Vassar
Hurley, Darin
Iorio, Peter
Jacobs, Lynn
Jenkins, Lori
Joyner, Rebecca
Keplinger, Vel
Knoch, Emily
Love, Giovanna
Maddox, Meg
Maples, Martha Alese
McCluskey, Lisa
Mendez, Cathy
Merrell, Patricia
Miller, Brenda
Miller, Naomi
Moore, Erin
Moore, Gwen
Moore, Tracy
Nelson, Stephanie
Nida, Diedre
Paris, Marian
Parkinson, Peggy
Puffer, Bevelle
Robinson, Teresa
Russell, Beth
Stuermer, Sandra
Suter, Donna
Talley, Blondell
Tallman-Gazaway, Elizabeth
Taylor, April
Teal, Joyce
Thomspson, Ellen
Tigar, Donna
Trinks, Jan
Washington, Angela
Willaims, Eddie Mae
Woods, Barbara
Woods-Moton, Yohunnah
July Marketplace Luncheon
Thursday, July 28th, 2016
11:30 - Noon Networking
Noon - 1:00 Lunch
featuring
Michelle Herron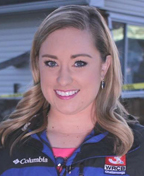 Topic: Different ways I've seen religion in the work place both personally and professionally.
Michelle joined the Channel 3 Eyewitness news team in June of 2014.

She grew up moving around the world with her family while her father served in the U.S. Army. Clarksville, Tennessee became her home when her father retired from the military.

Michelle worked as an anchor and reporter at WKAG-TV in Hopkinsville, Kentucky and as an associate producer at WZTV-Fox17 in Nashville, Tennessee before joining WYMT-TV in Hazard, Kentucky as a morning show anchor and reporter.

She is happy to be back in Tennessee and part of the Channel 3 Eyewitness news team.
Reservation Deadline:
TUESDAY, July 26th at NOON
To make reservations:
This e-mail address is being protected from spambots. You need JavaScript enabled to view it or 423.698.6262
Mountain City Club
729 Chestnut Street, Chattanooga, TN 37402
Please note: Parking may not be available in the MCC parking lot. If directed by signage to park elsewhere, other parking options include Republic parking (approx. $4) and/or street metered parking on Pine, Chestnut, Broad, & 8th.
$20.00 Luncheon cost
$15.00 (Non-profit rate--for paid employee of a 501c3 organization)
2016 Upcoming Events:
MARKETPLACE BIBLE STUDIES
Classes are open to all women and will be held
once per week at lunchtime.
We are in the process of recruiting teachers and
businesses that would  be willing to allow
us to come in and teach a Bible study class.
If you would be willing to serve in this way, please contact:
Patti Harris at 698-6262 or e-mail This e-mail address is being protected from spambots. You need JavaScript enabled to view it
******************************
Monday's 11:30 am-12:30 pm
Beginning April 4-Janice Meissner--423-242-5514--Wally's East Ridge-
The 7 Experiment Staging Your Own Mutiny Against Excess
Tuesday's 12-1
-Kathryn Geddie--TVA
-----------
1, 2, & 3rd Tuesdays 12:10-12:50 p.m.
Rosalyn Hickman--Titus 2--AIM Center Downtown
----------
(3rd Tuesday of the month) 4-5 p.m.
Flo Samuels--Lee Hwy/Hickory Valley Retirement Center
__________
Call 698-6262 or email This e-mail address is being protected from spambots. You need JavaScript enabled to view it   to join a Bible study today!
_______________________________________
Job Openings
A Customer Service Representative position at Precept Ministries International is a great opportunity to be part of an organization whose mission is to establish people in God's Word through Inductive Bible Study. We are currently seeking the right individual for this position. Please join us in praying for God's guidance and discernment in the selection process. If you or someone you would refer is interested in this position, please carefully read the job description to understand the necessary qualifications.
For job application information, please contact:
Jan Jeter (HR Director) -  This e-mail address is being protected from spambots. You need JavaScript enabled to view it | phone: 423-296-8583
Posted 5/13/2016
Leadership Ministries Worldwide
Position Description- Brief
I. Position Identification:
Position Title:  Bookkeeper / Administrative Coordinator
Reports to: President/CEO
Reporting to this Position: None
FLSA: Non-Exempt
II. Organization Overview:
Leadership Ministries Worldwide (LMW) is a small not-for-profit organization that generates revenue from sales and contributions from donors. LMW has worldwide exclusive publishing rights for The Preacher's Outline & Sermon Bible®, a 43 volume academic synthesis of over 200 commentaries, Bible sources and language sources, and all derivative works. LMW has a footprint in 172 countries and an estimated 1M users since its inception. We are engaged in developing resources, mobilizing trainers and empowering pastors worldwide. We have recently entered the mainland China market through a contract with We Devote, the most commonly used Bible App in China with over 10M users. And we are beta testing a new proprietary online training platform LystraGlobal providing training and controlled distribution of our Outline Bible Resources for thousands of organizations training Pastors worldwide. We are also developing an online crowd-sourced translation process to expedite the translation of our material into native languages.
LMW is an accredited member of the Evangelical Council for Financial Accountability ("ECFA"). Learn more about the ministry at https://outlinebible.org.
III. Position Overview:
Leadership Ministries Worldwide seeks a versatile, results-oriented professional to join our team. We are hiring a full time Bookkeeper / Database Manager to execute all of the organization's bookkeeping and accounting functions, manage the CRM system of customers, vendors and donors, assist customers with phone orders and to support other administrators as needed. Position targeted at 40 hours per week.
IV. Essential Functions: Applicants should have the following specific bookkeeping, accounting and administrative support experience including, but not limited to:
1. Cash receipts / Accounts Receivable
2. Cash disbursements / Accounts Payable
3. Cash Management
4. Financial Reporting
5. Human Relations Support and Payroll
a. From time to time, assist the sales team in answering the phones, and processing customer orders
b. Proactively organize, create and maintain up-to-date electronic files using Dropbox and / or physical filing system
c. Maintain a strict level of confidentiality in all aspects of the job
d. Perform non-routine tasks requiring strong judgment and initiative
Education:
Accounting degree or equivalent work experience
Key Qualities:
· High level of attention to detail and accuracy of work
· Ability to work independently in an efficient and effective manner with minimal supervision
· Solid time management and organizational skills with the ability to adapt to change, multi-task and be flexible
· Ability to deal with problems in a positive manner and find effective solutions or know where to seek assistance
· Ability to prioritize competing demands to efficiently complete tasks with deadlines
· Professional phone etiquette
· Ability to effectively communicate verbally and in writing
· Ability to manage work and projects to meet Deadlines
· Able to write reports, business correspondence
· Is completely Trustworthy
· Comfortable working with people from other cultures and backgrounds
Key Technical Skills:
· Strong accounting background working with receivables, payables, payroll, budgeting, and general bookkeeping and not-for-profit fund accounting
· Prior experience using online accounting software, Acumatica preferred. Experience in Microsoft Dynamics SL will prove to be beneficial.
· Prior experience tracking donor contributions, including pledges, using donor software, Acumatica preferred
· Intermediate level computer literacy in the following applications: Microsoft Outlook, Dropbox; Microsoft Office Excel, Word and Power Point; ability to learn other computer programs, as needed
Supervision/ support:
The Bookkeeper Reports to the President/CEO and has no direct reports.
Republic Parking

(posted April 5)
Must be 18, healthy enough to walk the entire shift (with breaks of course), and competent to use a tablet type computer.
The duties involve walking assigned lots and writing tickets to violators.
I have one specific opening for a M-F 9a-3p. The other openings require flexibility to include some nights and weekends.
Resumes can be sent to me at This e-mail address is being protected from spambots. You need JavaScript enabled to view it
_________________________________
Communications Manager--
AMG International  (posted 3-24-16)
. Must have outstanding communication skills, both written and verbal; professional presentational skills and high attention to detail.
Creative and well organized. Strong marketing knowledge is desirable.
Solid theology background. Self starter with ability to handle many tasks and projects simultaneously.
Willing to travel as needed. Experience in successfully developing and executing strategic communication plans.
Grant writing experience helpful. Three to five years experience preferred.
Email resume and salary requirements to: This e-mail address is being protected from spambots. You need JavaScript enabled to view it
_____________________________________________________
Brainerd United Methodist Church (BUMC)
Family Ministry Director
I.               Summary of Position
A leadership staff position that will provide vision, energy, oversight, and daily direction to all aspects of Family Ministry including infants through Young Adult; enthusiastically implements vision and values throughout children's and student ministries; keep before the church body, staff, and elders a vision of the necessity of winning Families to Christ and discipling them to greater maturity.
II.                  Job Responsibilities
1.       Vision:

·

Implement and articulate BUMC strategy for growth in the areas of Children, Youth, Young Adults, Families and Outreach.

·

Keep current with innovations in children's, student and family-focused ministries.

·

Serve as an advocate for Family Ministry before staff and congregation.

2

.       Programming:

·

Direct and foster growth in the Youth Program with the Youth Ministry Assistant

·

Coordinate Family Ministry programs with the Children's Ministry Director that will help children, students and families embrace Christ.

·

Develop and direct Outreach opportunities through family and community leaders, with the assistance of the Lay Outreach Director.

·

Create a Young Adult Ministry to reach individuals in the target age of 18-25

·

Equip and partner with parents by equipping them with resources to become actively and intentionally involved in the spiritual formation and discipleship of their families.

3.

Leadership:

·

Lead coordinators, teachers, and other volunteers in the Children's & Student Ministry

·

Assist and participate in budget development, implementation, and accountability in the areas of Youth, Young Adults and Outreach.

4.       Shepherding:

·

Assist in directing people to help with and pray about special needs of students and their families.

·

Serve as a healthy role model of leadership, sharing the grace of Jesus.

·

Provide children and family direct pastoral care as appropriate, or resources to nurture healthy families

·

Build relationships with families –children, youth, and their parents; advocate for children, youth, and families within the congregation




III.

Qualifications and Skills:

· Bachelor's Degree in a related field

·         Experience that includes working closely with families, children and teens; Ministry experience a plus

·         Demonstrated vibrant progressive Christian faith and a strong public discipleship; Familiarity with United Methodist Church teachings a plus

·         Proven leadership and management skills

·         Self-directed and highly independent, but able to function as a team player and maintain positive working relationships

·         Organizational skills for growing, mobilizing, and maintaining a strong and effective team and program

·         Able to inspire, direct and motivate children, youth, young adults and their families
______________________________________________________________________________
Help Connect Faith and Finances as a Thrivent Financial advisor
What if your next career could change lives? What if you could succeed by helping others succeed? What if you could help Christians connect their faith and finances?  As a financial advisor with Thrivent Financial, you'll have the opportunity to turn these "what-ifs" into a meaningful career.
Why Thrivent?
We believe money is a tool, not a goal. Our national, membership-owned organization of Christians offers a unique blend of faith, finances and generosity. With a full range of financial products and services, you'll help people create a strategy that reflects their values, provides for their families and protects their future.
At Thrivent, our financial advisors focus on:
Providing financial guidance that connects faith and finances.
Helping our members to be wise with money, live generously and change lives.
Strengthening churches or other groups they care about in their community.
Position Overview
As a Thrivent Financial advisor, you'll:
Have the freedom of working independently. You'll run your own business with support of leaders and mentors.
Help Christians meet their financial goals by executing our proven advice sales process with prospective and existing members.
Explore with members the many ways their money choices can reflect their values.
Help members feel comfortable and confident with their finances.
Successful Thrivent Financial advisors are effective at:
Making approaches to get appointments. This is done by leveraging existing relationships, holding workshops and marketing their services.
Inspiring others to take action by closing sales through analyses of unique situations. This includes creating a written recommendation based on the member's needs, budget and goals.
Maintaining ongoing relationships with members.
Thrivent has proven systems and processes to give you the support to help you learn how to successfully build these skills. Contact: This e-mail address is being protected from spambots. You need JavaScript enabled to view it .
Position Requirements
Obtain and maintain state insurance licenses with required lines of authority (life, health & variable contracts) prior to the solicitation or sale of insurance products.
Obtain and maintain FINRA Series 7 and 66 registrations.
Pass Background and Credit checks.
Insurance products issued or offered by Thrivent Financial, the marketing name for Thrivent Financial for Lutherans, Appleton, WI. Not all products are available in all states. Securities and investment advisory services are offered through Thrivent Investment Management Inc., 625 Fourth Ave. S., Minneapolis, MN 55415, a FINRA and SIPC member and a wholly owned subsidiary of Thrivent. Thrivent Financial representatives are registered representatives of Thrivent Investment Management Inc. They are also licensed insurance agents/producers of Thrivent. For additional important information, visit Thrivent.com/disclosures.
__________________________________________________
Fairfield Inn & Suites --Breakfast Attendant ad:
Energetic?  Out-going personality?  Are you a "morning person?"
3H Group Hotels, Inc., is seeking a Breakfast Attendant for our Fairfield Inn & Suites by Marriott Chattanooga East/Hamilton Place location.
We are looking for an enthusiastic and friendly individual to join our team. If attention to detail and customrder service is your passion, this is the job for you!
To be considered, you must be available to work early mornings (work starts between 5-6 a.m.), weekends and holidays. Reliable transportation to and from work required.  All applicants must pass a background check.
If you have a strong work ethic, enjoy challenges and strive to improve your service to the guest every day, please apply in-person at Fairfield Inn & Suites, 2345 Shallowford Village Dr., Chattanooga, TN 37421.
_________________________________________